Thank you Pat!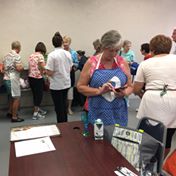 I just want to thank you for a truly enjoyable day today in the Cooking Class. From the time we got on the bus in Brownwood, the ride up to Ocala, the very personable Mother and Daughter team teaching us the cooking recipes and sharing their 'cooking secrets', enjoying the meal and right down to the ride home, everything was top rate.
The people attending this cooking session were so friendly and conversations flowed.
I look forward to taking another Cooking Class and attending another of your trips.
Pat Myers. The Villages, FL