Leesburg Travel Agent – Carol Cane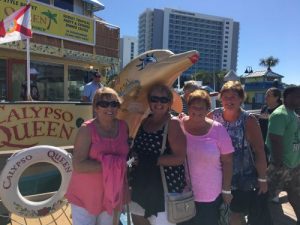 Hi, Welcome To Carol's Trips!
Leesburg Travel Agent, Carol Cane of Carol's Trips has more than 25 years experience in the travel industry~
Travel has always been a passion for my husband Tom and me. Back in 1987, we decided to team up with an agency in the Philadelphia area and work on a part-time basis, Our first group cruise was leaving from Philadelphia and sailing over to Bermuda. At that point, we caught the "cruise bug" and decided to be a little more serious about the business. Disney World was our #1 land destination and Celebrity was our #1 cruise line. In 2004 Tom retired from the PA Dept. of Corrections and we moved to sunny Florida. Hurricane Jeanne welcomed us to Florida.
Becoming a Florida Travel Agent
Living in Florida changed our lives as well as our business, bus Trips became a big part of the requests we were receiving. Residing in the Leesburg area gave us access to two great performing art centers; Tampa and Orlando, and of course casinos are another favorite destination.
With over 25 years of experience we decided to venture out on our own and as a result, Carol's Trips was established. Customer Service is our #1 priority next to planning your dream vacation, group excursion, honeymoon or a destination that might be on your "bucket list". Where ever you want to go, we would be honored to fulfill your vision.
We are always posting new cruise promotions and day bus trips for The Villages and Leesburg areas. Be sure to check our website weekly for new updates, and follow us on Facebook to see our latest trip photos. You can also click "subscribe" on the event tab on our Facebook page to receive a notification each time we post a new cruise deal & day bus trip. Here is the link to subscribe now:
https://www.facebook.com/pg/carols.trips/events/?ref=page_internal
As we say at Carol's Trips – "It's Time To Go"!