The Villages & Leesburg Day Bus Trips & Cruise Deals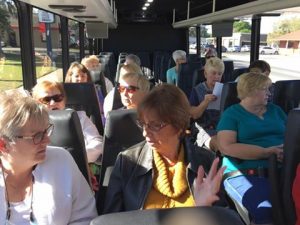 The Villages and Leesburg Day Bus Trips & Cruise Deals
I love planning Leesburg Day Bus Trips and finding cruise deals for my neighbors in The Villages & Leesburg areas. One of the reasons I am in the travel business is to help people find a really good deal and for the client to have the best time they can have at a price that fits their budget. Sometimes the plans fall right into place, while other times…well let's just say it is a little more difficult. Not because of the location but the problem might be with availability or pricing.
Bus trips have similar issues; pricing, availability, location and not enough excitement. That is why we at Carol's Trips are always looking for something different to do. We, as human beings, get bored doing the same thing all the time, year after year. For a current list of our Day Trips click here: http://carols-trips.com/category/day-bus-trips/
How Do We Decide Our Leesburg Day Bus Trips?
So you might be wondering where we come up with the ideas for our day bus trips! Many of you will call or e-mail me and suggest a certain museum, venue or show, which is absolutely wonderful. Many times it is something or somewhere I have never heard of. Of course, I have to do some research on the web and many times I actually check the suggestion out in person. In fact, the past few weeks we have been scoping the area out to see where or what can we do next.
Recently one lady sent me a request to look into the Orlando Eye. Now I have lived in Florida for over 10 years and had no idea what she was talking about. So I got on my computer to check it out and to my amazement, the Orlando Eye is that huge Ferris Wheel on International Drive in Orlando. Did you know that? I did a little detective work and found out that there are plenty of restaurants in the area but not a lot of shopping. But still…this sounds really neat. So probably in the very near future we will put a bus trip together, so stay tuned.
As many of you know my Consignment Shopping Sprees are a real hit with the ladies, but how many times can we keep going to the same shops. As I'm writing this article, my associate and I are checking out new shops east of The Villages; Mt. Dora, Altamonte Springs, etc. But the real challenge will be to find a really good/neat restaurant to have lunch at. Any suggestions?
Finding Cruise Deals
Cruises are another issue because again, how many times do you want to do the Caribbean! Not that we don't like the Caribbean but…So in October, 2017 we put together a 7 night California Coastal Cruise, round trip from San Francisco; in 2018 we are looking into a British Isles Cruise and both cruises will be on Princess Cruise Lines. Bonus: if you were in the military, you will receive an On Board Ship credit from Princess Cruise Lines. How cool is that!
Thinking "outside the box", we have started to add some "specialty" cruises. A great entertainer by the name of Alan Darcy (you may have heard of him) is going to perform on Royal Caribbean's Rhapsody of the Seas in February, 2018. Alan is going to be performing two private shows and only his fans will be able to attend. Of course we will be having many more "goodies" on this cruise.
Keeping with tradition, if you want to take that "bucket list" vacation and have no idea where to start, I can certainly help you out. Just give me a buzz!
Like we say at Carol's Trips ~ It's Time To Go!
http://carols-trips.com/category/cruises/